888Sport is a massively popular sportsbook favored by Canadians and gamblers around the world. It has been available on the marketplace for several years and built a strong reputation. It is known for its great betting bonuses, fun features, and massive sports offerings. If you love 888Sport, you'd be happy to find out that they also offer one of the best betting apps on the market. The 888 Sportsbook App is a huge sport betting app that has so many fun aspects to offer bettors. In this 888Sport App review, we're going to cover all you need to know about this mobile option. We're going to look at what it is, what it offers, how to use it, and why the 888 sports betting app should be a fixture of your mobile betting experience. Ready? Let's get into it.
888 Sport App Features
Features are the unique ways of using an app that a sportsbook will provide. Every app is different, from the Betway App to the 888 Betting App. Let's look at the features that you can find with the 888 Sportsbook App.
Access to Great Promotions: 888Sport has some of the best betting offers around, and you can access the entirety of their offerings from your phone with the app.
Live Betting from Phone: Live Betting is something a huge number of sports bettors love, and with this app, you can place live wagers with ease. The app has a really fast betting system that will allow you to place bets in real-time, and with their cash-out feature, you can have a comprehensive live betting experience from your phone.
Smart Betting System: One of the best parts of using a betting site a lot is that it can adjust to your preferences. The 888 mobile sport app will give you bet recommendations and offers based on your habits and winners. It will provide a personalized experience on your phone.
Easy Payments: If you need to reload or take money out, you can do it all from your phone with the 888 betting app. It is easy to deposit and withdraw, and you can store your information for lightning-fast deposits and withdraws. 888 has a lot of different payment options, so you'll be able to choose from a large selection.
Fun Betting Features: What separates 888 from a lot of betting sites is the great features it offers. 888 offers things like enhanced odds, a free pick'em, enhanced multiples, and trending odds and games. These features are all accessible from your phone, which means the 888 sports betting app condenses the entire experience down to smartphone size.
888 Sports App: A Breakdown
Just about every sportsbook will offer users a mobile website, but the number of ones that offer dedicated mobiles apps in the app store is few and far between. 888Sport is one of the biggest operators, alongside the Betway Mobile App and a few others, to provide dedicated apps that can be downloaded.
You can download the 888 Sport App on the Apple App Store and the Google Play Store in Canada. For the 888Sport App Android version, it can be downloaded on versions 4.4 and above and takes up 15.79 MB. For the 888 iPhone App, it can be downloaded on iOS version 12.2 and above and takes up 26.3 MB of space.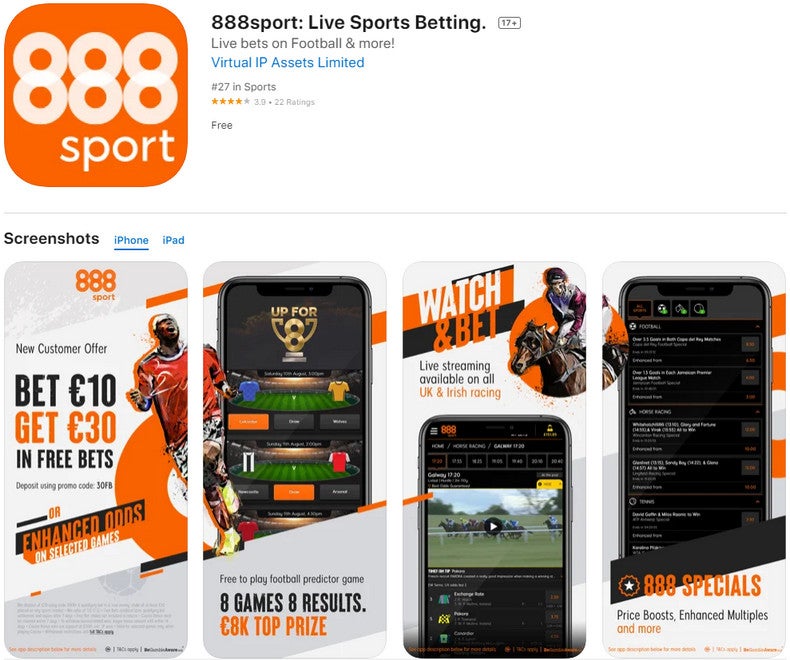 |
The user experience on the app is excellent. It perfectly manages to condense the 888 experience into a mobile format. It is intuitive, loads very quickly, never lags, and looks how users would want a mobile platform to. The design is intuitive, and with a search bar, you can find any game or league you want. Everything is only a few taps away, making it maybe more easy-to-use than the desktop site.
The app has live features which allow you to place bets on games already underway, and they also offer a cash-out feature, so you can exit bets any time you please. The 888 Sportsbook App is known for offering huge coverage of just about every league and market the average Canadian bettor would seek out.
The 888 Sport App download process is simple and fast, and once it's on your phone, the log-in is easy. For those who are wondering, the 888 Sport app free download installs, so you don't have to pay to access this great app.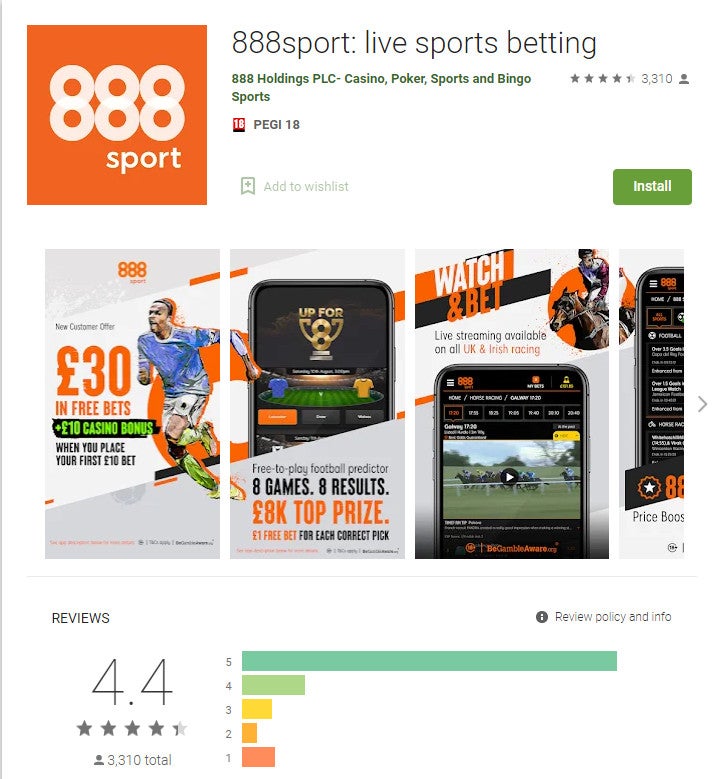 |
The 888 Mobile app will respond to your habits and store your preferences. Overall, there's a lot to love about the user experience and basic features of the 888 Mobile Sport App.
888Sport Mobile App Guide
If you're looking to get started, it shouldn't take a long time and will be a simple process whether you are downloading the 888Sport App Android version or the 888iPhone App. Below, we'll offer a quick breakdown of how you can get this great app on your smartphone.
Step One: Search 888Sport on the Google Play or Apple App Store
Step Two: Tap Download and Wait a Minute or Two
Step Three: Tap on the App and Enter Your Log-in Information, or Create an Account
Step Four: Start Betting! Tap from Sport to Sport and League to League, and Search on the Search Bar to find the Game You're Looking For.
888Sport's Mobile Optimized Website
Not every sportsbook offers a mobile app, as we've mentioned. The ones that don't will tend to fill in that absence by providing users with a mobile-optimized website. A mobile website is a version of a desktop website that is built and formatted to work on a phone. It can't be downloaded like an app, and while many apps offer their users special mobile bonuses, mobile websites rarely ever do.
However, there is still a lot to like about a great mobile website. It can offer an excellent user experience and interface. While there is obviously an 888 betting app, there is also a mobile-optimized website available for users. The 888 mobile website is also a great option for users that want to take their sports betting on the go.
The 888 mobile website looks very similar to the app. It has condensed the experience of the website to fit perfectly within your smartphone, and accessing all the games and features of the sportsbook is extremely simple. The load time is rapid, and the layout is extremely intuitive. There is also a search bar on the mobile site, which makes finding any game or league a simple task.
Overall, the mobile website is a great option for those that don't want to download an app. While the 888 Sportsbook App is more accessible and offers a slightly heightened user experience, the mobile website is also a great addition to mobile gaming.
888Sport Mobile App Bonuses and Promotions
One of the best aspects of 888Sport, and this translates to their mobile app, is the great bonuses and promotions that they offer. With the 888 Mobile App, you can access all the exciting promotions that the desktop website provides.
The primary bonus that many flock to sports betting sites for is the Welcome Offer. For 888Sport, that welcome offer is a 100% Matched Deposit Up to $250 on your first deposit. This bonus is only available to those that have just signed up with 888Sport.
Other notable bonuses you can access from the mobile app include a $5 free bet if you make a parlay bet of 5.00 or more, a $5 free bet for making a three-legged hockey parlay, and boosted markets. 888Sport also has a bet builder feature, which allows users to place bets on custom-created same-game parlays.
If you want to access these bonuses, visit the Promotions page on your 888 sport app. Tap on the promotion you want to claim, read the terms and conditions and the steps necessary to claim the bonus and follow them. All 888Sport bonuses are available on the app.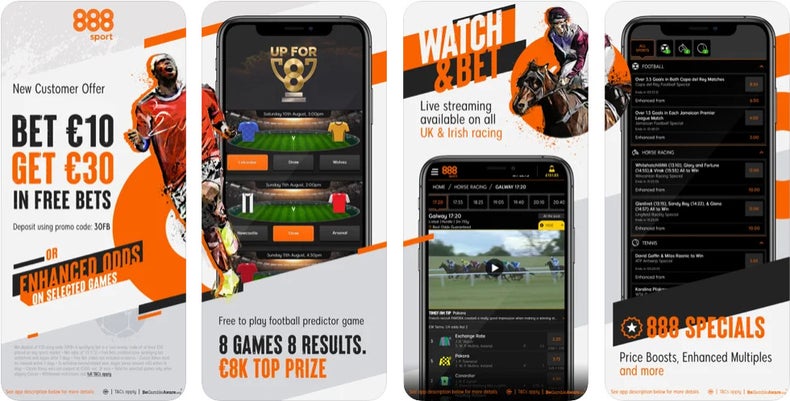 |
888 Sport's Mobile App Security
888 is one of the biggest global operators, and with that comes a certain amount of trust and security. They are well-known for protecting users' information and money, and when you play with 888, you can feel assured that no harm is going to come your way.
888 has no adware, spyware, or malware on any of their platforms, including their mobile ones. They are regulated and licensed in both the United Kingdom and Malta and are fully legal for Canadian users. They are likely to be licensed soon in Canada once the April law changes come into full effect.
One security feature unique to the app is the fingerprint sign-in. This will help ensure your identity when you log into the sportsbook if you choose to utilize this feature. Overall, the 888 mobile experience is as safe and reliable as the desktop one. This means you can feel confident you are receiving great security and protection.
Mobile App Banking Options
Having good banking options to choose from is a key part of finding a sportsbook that you like. If there is one primary method you use, and the app or website you're using doesn't support it, you may be out of luck.
Luckily, the 888 Sports Betting App has access to a massive array of different banking options for bettors. You can choose to use the standard options like Visa, MasterCard, and Interac, which are all available on the app, or you could try some of the different alternative banking methods supported. There are e-wallets like Neteller, ecoPayz, and Skrill, as well as options like Apple Pay and PayPal.
The 888 Sport App has all the mobile banking options one could possibly need. The only ones they are missing are cryptocurrency, but most websites don't support crypto, although some apps do. Overall, there isn't much missing from the payment options, and the mobile banking experience is fast and easy.
Mobile App Support
If you ever run into issues while using the 888Sport mobile app, you can feel confident that you are going to receive the assistance you need. 888Sport has an array of customer support options that are accessible from their mobile platform. While their customer support staff isn't available 24/7, you'll have three primary ways to get in touch with support if you encounter problems.
The first option you're going to have is their Help Center, which has a large FAQ page. This page has a bunch of different questions and answers that can solve an array of problems that may have come up. There is also a support email, [email protected], which you can reach out to with any queries.
Lastly, there is a LiveChat feature, where you can message back and forth with a customer support representative in real-time. All these options are available on the 888 Sportsbook App or website, and each one can assist you if you encounter any issues while using the platform.
Mobile App Final Verdict
If you are looking to take your mobile betting to the next level, using 888Sport's incredible mobile offering is a top-notch option. In this mobile app sportsbook review, we've talked about everything from the bonuses and customer support options to how to download the app. Now, it is time to discuss the final verdict on the app.
The 888Sport app is one of the top mobile apps in the industry. It is a mobile sportsbook with incredible features, an array of options, and an easy-to-use layout and design. It is intuitive and, most of all, fun. The best aspect of 888Sport is the great promotions and features that they offer users, and the app continues that by providing bettors with a central mobile hub that offers them everything they could possibly want.
There really aren't any major downsides to this app. If I had to nitpick, I would say the fact that they aren't accepting cryptocurrency yet, and that their Live Chat support staff aren't available 24/7 would be my only issues.
Regardless, this is a great app with an array of fun features and an intuitive layout, great design, and fun bonuses. It has something for everyone and, much like the 888Sport desktop version, is a slam dunk for sports bettors of all experience levels.