Royal Panda doesn't accept sports players anymore
You can check our top recommended betting sites below:

Royal Panda
Royal Panda has a huge focus on live betting, with punters
Key Features
Boosted Odds

Live Casino

Free Sports Bet of up to $75

100% match of first deposit

An abundance of Promotions
Easy to open an account and make withdrawals and deposits
A secure system that is SSL verified for peace of mind
A massive amount of options for bettors to choose from
The website could be more intuitive
Sports betting page takes time to figure out
Minor glitches occur relatively frequently
Royal Panda Canada Review
Royal Panda is an online gaming operator that covers both sports betting and virtual casino games. Royal Panda is Malta-based, fully licensed, that offers users countless exciting and inventive ways to gamble. From live blackjack to digital slots, there is so much to explore and enjoy on Royal Panda.
Creating an account is simple, the deposit and withdrawal process is as easy as it gets with online gambling, and the account security is rock solid. Royal Panda is a website that has it all: a mobile app, fun twists on Vegas classics, and enough sports betting to satisfy even the most rabid fans. Royal Panda casino is a great option for Canadian bettors.
Royal Panda Info Card
Brand Name
Royal Panda LTD
Launched
2014
License
Malta Gaming Authority, UK Gambling Commission
Contact

[email protected]

 or @royalpandacom or Facebook
 Telephone
+356 2778 0418
Live Chat
Available 24/7
Address
Tagliaferro Business Centre, High Street, c/w Gaiety Lane, Sliema SLM 1551, Malta.
Getting Started At Royal Panda
Setting up an account with Royal Panda is simple and to the point. Here we will give you a step by step guide to becoming an account holder with Royal Panda.
Step 1: Visit royalpanda.com, and click on the small red tab that says Join Now
Step 2: Choose a username and password. Come up with something easy to remember for a username, and for a password, you will need an upper-case letter and a special symbol.
Step 3: Fill in your personal information. Royal Panda will need to know your name, date of birth, email, phone number, address, postal code, and country of residence.
Step 4: Verify your account through email. Check your email address and verify it through the email from Royal Panda.
Step 5: Your account is now active! Deposit money, and begin your gambling journey on Royal Panda.
Royal Panda User Interface
The user interface is mostly intuitive with a few exceptions. Some of the font sizes are smaller than they should be, and there are minor loading glitches. Overall, the website is very easy to understand, formatted in a comprehensible way, and incredibly eye-catching.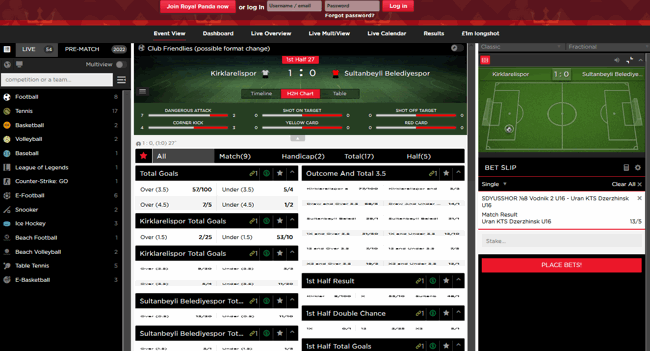 |
Visa

Skrill

Neteller

ecoPayz

Interac

Paypal
Royal Panda Banking Options
When it comes to banking, this is definitely something that many bettors are concerned about. Luckily, Royal Panda offers a safe and secure method for banking with their website. They also have detailed information on their webpage to help ease the process. One such resource is their FAQ page, where there is a section dedicated to depositing and withdrawal information.
Here are the methods that are available for deposits:
Visa, MasterCard – $10 Min Deposit with instant process time. No fees. $100,000 Withdrawal limit with 1 to 5 days process time.
Skrill – $10 Min Deposit with instant process time. No fees. $100,000 Withdrawal limit with 1 day process time.
Neteller – $10 Min Deposit with instant process time. No fees. $100,000 Withdrawal limit with 1 day process time.
MuchBetter, SafetyPay – $10 Min Deposit with instant process time. No fees.
Paysafecard, AstroPay – $10 Min Deposit with instant process time. No fees.
e-Pro – $10 Min Deposit with instant process time. No fees.
Bank Transfer – Instant process time. $100,000 Withdrawal limit with 1 to 5 days process time
Deposits At Royal Panda
Depositing funds with Royal Panda is a very simple process. Below, we will guide you step by step.
Step 1: Visit royalpanda.com, and click the deposit button at the top right corner of the screen. This will take you to the page where you will deposit your money.
Step 2: Choose your deposit method. If you are unsure of which one to choose, refer back to the section above, where the information on each method is listed.
Step 3: Select the amount. The website will offer options, starting at $25, and going up to $5,000. If none of these options are what you are looking for, there is the option to select another amount.
Step 4: Claim bonus. If it is your first time betting with Royal Panda, they will offer you a welcome bonus you can claim. It includes 10 free spins at one of their casino games, and a 100% bonus matching your deposit up to $200.
Step 5: Deposit and confirm payment. For this section, type in your payment information, including number, expiry date, and security code if you are paying by card. You'll then be asked to confirm, and then the money will enter your account. From there, you are good to begin betting!
Withdrawals At Royal Panda
Once again, the withdrawal process is pretty self-explanatory and easy, but below, we will guide you through it just the same.
Step 1: At the same window where you deposited, click the withdrawal tab.
Step 2: Select your withdrawal method. The different methods are displayed on the website, with minimum withdrawal displayed beside them.
Step 3: Select the amount you wish to withdraw. If you withdraw right after opening your account, you will lose your bonus.
Step 4: Enter your information. Depending on which method you have chosen, Royal Panda might require more information. After this step, the money in your account should be returned to you.
Sports Betting At Royal Panda
Royal Panda offers sports bettors some exciting features and an abundance of options for their betting needs. Royal Panda gives Canadian bettors dozens of sports to bet on whether they're on desktop, mobile, or tablet. Bettors can bet on just about any sport they can think of, from Canadian horse racing to the CFL. Royal Panda also of course includes all the classic sports that bettors typically love to bet on, like the NFL, NHL, MLB, and NBA.
Bettors can bet on a variety of exciting types of bets on the sports they love. Football fans can place bets on match outcomes, point differentials, and player props like first/last touchdown scorer, among many others. Hockey fans can bet on goal totals for a player, match outcomes, winner of a specified number of minutes, and many other different prop outcomes.
The same goes for Basketball and Tennis. Basketball bettors can bet on points scored by a team, player props like points, blocks, or steals, and even wilder props like who will foul out, amongst many other betting options. Tennis fans can bet on match winners, score outcomes of games or sets, and total number of games or sets, as well as many other bets.
These are just some of the many options that sports fans have on Royal Panda. The potential is just about limitless, and there is truly something for everyone.
How to place a bet at Royal Panda
To place a bet on Royal Panda Canada, visit their website, and click on their sports page. There will be a huge variety of options to choose from. The sports section has an event view, a live calendar, a live overview, and several other sections.
To make a bet, simply select the event of your choosing. There are different screens users can click on that show different offers Royal Panda has. For example, users can click on the boosted odds tab to see gambler friendly alterations Royal Panda has made for their users. Or users can click on the NFL window to see the lines for the upcoming weekend's slate of football.
To be, simply click on your intended line, and input your bet. Submit your bet, and you are officially in on the action.
Royal Panda Casino Games and Live Casino
Royal Panda is home to a huge variety of casino games that will appeal to just about anyone who loves the thrill of gambling. There are options available to bettors of all skill level and financial background. Bettors can play these games straight from the website, without the need for any secondary downloads.
If a bettor is simply looking to gamble for fun, they can select the "Play for Fun" option, and enjoy free casino games. But if a bettor is looking to make some money, they can select the "Play for Real" option, and gamble using real money.
For the experienced gambler who is looking to multi-task, bettors can have up to four games running on their screen at once. This offers an intense and immersive experience for the gambler who can handle a lot going on at one time.
Every game has its own pop up that explains the details of the game to the user. This pop up will explain how to play, the rules, payouts, bonuses, and any other relevant information. The games also have settings where users can adjust various factors of the game they are playing, like speed, coin value, sound, and any other relevant adjustable details.
The games are divided into different sections according to the user. Users can select the most popular games, most recent games, or sort through the games alphabetically, or by the software provider. They can also filter by the different types of games.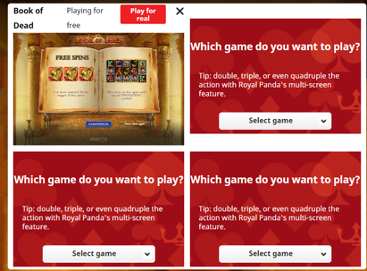 |
Types of casino games at Royal Panda
Royal Panda selection of casino games includes some classic types of games, as well as many more modern twists on gambling. Users can play video slots, Live casino games, Daily Jackpots, Classic Slots, Scratchcards, and Video poker, as well as several other options.
a huge slots section (300+ games)
progressives (22)
roulette games (20)
blackjack (17)
other table games (21)
video poker (14)
live dealer games (31)
scratch cards (34)
Their most popular game types include:
Roulette: at the top of their most popular page is Royal Panda Live Roulette Bettors can hop in on different live tables that cost differing amounts per spin of the wheel for this virtual twist on the casino classic.
Slots: Many different games are essentially themed versions of slot machines. For example, their ancient Egypt themed game Book of Dead, or their animal-themed slot game Iron Bank are both wildly popular and extremely intuitive.
Blackjack: Royal Panda offers live blackjack games with their Royal Panda Live Blackjack. This game gives users the chance to play with other users, and join in on tables of differing costs.
Miscellaneous: Some of these games aren't typical casino games, but still exciting ways to gamble. For example, Monopoly Live and Crystal Prince are two popular games that couldn't really be played at a real casino, but a virtual casino offers users new ways to make money.
Scratch card games: include Joker Jester, The Codfather, and Medusa.
Royal Panda Software Provider
Royal Panda has gathered some of the most trusted and respected online gaming software providers to develop their games. Here is some information on three of their top providers:
Microgaming: Microgaming is a software provider that has been a key player in the online casino sphere since the 1990s. They have developed over 800 different casino games, included some affiliated with major entertainment brands like Game of Thrones or Jurassic Park. Their progressive Jackpot has paid out over $1.1 billion in prizes to date.
NetEnt: NetEnt is a publicly-traded Swedish gaming company that has also been operating since the 1990s. NetEnt is considered a pioneer of the online gaming industry. They have over 200 games available to play right now, and handled over 58.3 billion gaming transactions in 2019 alone.
NextGen: NextGen Gaming is a British slot company that was founded in 1999. NextGen is one of the most respected slot companies in the industry, with hundreds of releases and titles like Witch Pickings which have become wildly popular.
The live dealer casino at Royal Panda offers 31 games live from the gaming floor. Interact with real dealers on top tables games, such as Speed Baccarat, London Roulette, Ultimate Texas Hold'em, Dream Catcher, and Caribbean Stud Poker.
Royal Panda Mobile Versions
If you are looking to enjoy Royal Panda on the go, there is an app available for iOS. If you are looking to enjoy Royal Panda on the go, there is an app available for iOS. To download the iOS app, simply visit the app store or visit this link.
For Android users, they can visit this link to download a direct link that will take them to a mobile version of their website, essentially functioning the same as an app.
There are no main differences between the app and the website, as the website is fully mobile operational. Users can play all the games they know and love on their phones, wherever they go.
Is Royal Panda Safe And Secured
Royal Panda is considered to be a very secure and safe gambling website. According to their own information page, all user data is encrypted, and the entire website is hosted on certified and secure servers. They also have a very strict information security policy to make sure user data is protected.
A key feature of Royal Panda security is that they use an Extended Validation SSL certificate which is considered one of the most stringent forms of authentication available. This certificate was provided to them by Comodo, who the website claims is a global leader in online security.
Royal Panda is verified by Visa, has the Mastercard Secure Code certification, and numerous other certificates that prove their security. When it comes to online gaming, it is important to be cautious, but Royal Panda offers users peace of mind when it comes to security.
Royal Panda License
Royal Panda is a fully licensed provider of online gaming. They are licensed and regulated by the Malta Gaming Authority and incorporated under the corporate license of LeoVegas Gaming p.l.c MGA/CRP/237/2013 issued on August 1st of 2018.
How can I get extra promotions from Royal Panda?
You can get extra promotions by using promotions on certain days, playing specific games at specific times, and by referring friends. If you click on the promotion tab on the website, you will see numerous potential promotions you might be eligible for.
What is a way to earn extra money from Royal Panda?
Royal Panda offers interested users an affiliate marketing program. Users can receive 50% commission off people they refer to the website. The website claims to offer revenue share for life off clients that are referred, with no negative carryover or hidden terms.
What is the Loyal Panda shop?
The Loyal Panda shop is a shop where users can spend reward points they have saved up on a bunch of exciting items. Every bet with real money will add to your collected Loyal Panda points. These points can go to prizes that include RayBan Sunglasses, a trip for two to Las Vegas, a MacBook, and many other prizes.
For the four major sports leagues in North America, how long does a match have to go for the bet to count?
For a hockey and football game, at least 55 minutes must be played. For a baseball game, there needs to be at least 5 full innings played. And for a basketball game, there has to be at least 43 minutes played.
How can I find out about new games or sports betting tips on Royal Panda?
When exploring the website, click on the News tab to open a large list of updates regarding Royal Panda. There is information on what new games are being added to the website, what the games of the week are, information regarding promotions, and tips for big sporting events. This page is very helpful, and shares some important insights with Royal Panda users.
Our Opinion About Royal Panda
Royal Panda Review: Royal Panda gives Canadian bettors a home for almost all their gambling needs. Whether you are looking to enjoy a wide variety of casino games, or throw down some bets on your favorite team or player, Royal Panda is the place for you. With an attractive, eye-catching website that is user-friendly, and a ton of exciting promotions, Royal Panda is made for bettors of all level.
One facet of this website that makes it so attractive is the level of security. Users data is protected, the website itself is heavily encrypted, and it feels like your money is in safe hands. Signing up is easy, withdrawals and deposits take no time at all, and overall, there isn't much more you can want from your online gaming operator.
Elisha is an excellent content writer with a Bachelor's Degree in Psychology and a Master's Degree at the University of North Texas. He has been a great contributor at BettingTop10 since 2020. With a vast number of skills gained over 10 years of experience, as a content writer, he has published all sorts of articles and web posts. Over these years, he has connected with his audiences in ways beyond explainable. He developed a passion for sports in his teenage years and has taken it up as a forte in writing. What a fantastic way to put his skills into fair use?! In his free time, he loves to read books and watch football. He also spends his time learning other soft-skills such as Graphics Design and Animations and going on adventures. Elisha currently lives in the U.S.A with his family, and he is helping other writers across the world with their stories.